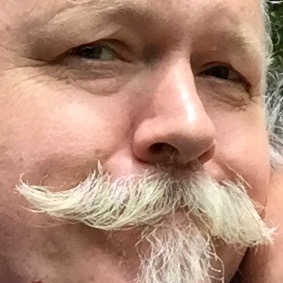 James Frederick Leach writes dark, speculative poetry, fiction & drama and he is double-plus proud of the recent book he wrote with Janice Leach titled 'Til Death: Marriage Poems (Raw Dog Screaming Press: 2017)
OBLIGATORY "BUY MY BOOK" LINK Watch Janice and Jim
squeal with delight as they open a box sent from their publisher.
JFL is a contributing editor to the website dailynightmare.com and YouTube channel which celebrates Midwest High-brow Horror.
DailyNightmare has published three volumes of "Quick Shivers" — 100-word stories based on nightmares, each bizarrely typeset.
• Volume One: 13 Quick Shivers from DailyNightmare
• Volume Two: 22 More Quick Shivers from DailyNightmare
• Volume Three: Quick Shivers about Bugs
• Volume Four: Quick Shivers from the Midwest
In his spare time, JFL paints pictures of dead things, makes masks and lurid puppets, and practices the "Dark Arts" including chaos magick and a couple types of ceremonial magick. Nope, not joking. He even blogs about it a bit.
Jim's snarky replies to Frequently Asked Questions — including his recipe for home-made mustache wax — can be found here.
JFL is a member of the Horror Writers Association.
Contact him at: jfl –at– jamesfrederickleach.com