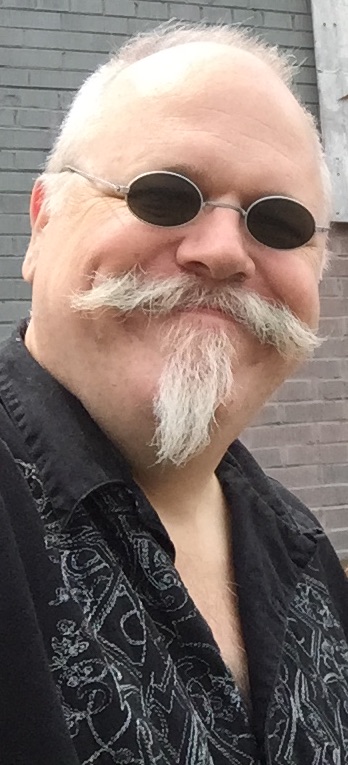 James Frederick Leach is a Michigan based contemporary creative of Dark Fantasy.
"I express my dark visions using the brightest colors possible because I believe we should make friends of our fears and celebrate our nightmares as extravagantly as our dreams. The best memento mori is a carpe diem."
A good introduction to his writing is 'Til Death: Marriage Poems (Raw Dog Screaming Press: 2017) which he co-wrote with his life partner Janice Leach. (Watch Janice and Jim squeal with delight as they open a box sent from their publisher.) Links to other writings are here.
JFL also expresses his visions by painting pictures of dead things, making masks and lurid puppets. A gallery of visual work can be found here. 
JFL practices Ceremonial / Chaos Magick, hypnotism, meditation, tai chi and NLP because they are potent metaphors and tools for personal transformation… and because he likes creeping people out with weird stuff.
"Burn brightly; live life at full volume. This'll all be over way too fast."
JFL is a contributing editor to the website dailynightmare.com and YouTube channel which celebrates Midwest High-brow Horror.
DailyNightmare has published three volumes of "Quick Shivers" — 100-word stories based on nightmares, each bizarrely typeset.
• Volume One: 13 Quick Shivers from DailyNightmare
• Volume Two: 22 More Quick Shivers from DailyNightmare
• Volume Three: Quick Shivers about Bugs
• Volume Four: Quick Shivers from the Midwest
Jim's snarky replies to Frequently Asked Questions — including his recipe for home-made mustache wax — can be found here.
Contact him at: jfl –at– jamesfrederickleach.com
His social media of choice is Instagram where he is: grimgnome13